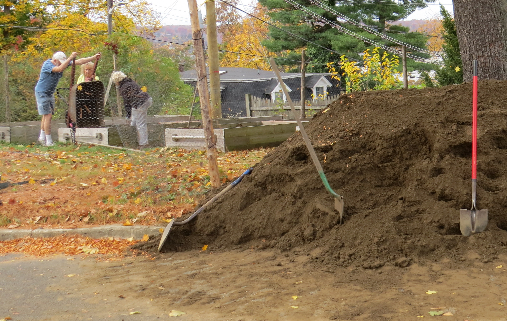 Hubert, Iris, and Linda Herring (left to right)
add a wheelbarrow of soil into one of the raised beds
.

Currently at the Garden:
On Saturday, November

7th

, Marcelo and I received the soil early in the morning. For the next two hours, we added soil to two of the raised beds. We were later joined by Iris and Linda Herring, who, after quickly sizing up the scope of the job, promptly recruited her husband Hubert.
Then Mark P arrived to give us a hand, and Christine Yeres and Bruce Platt joined later on

. With much physical work from all of us, we managed to replenish all raised beds and add more soil to other gardening areas.
Thanks to
Christine, who stopped by during the week to top off her bed, now the remaining soil pile is protected with a tarp and signaled with a "danger cone". But there's still more work to be done--please keep on reading!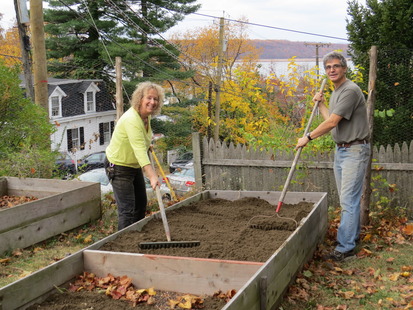 Iris and Marcelo spread the newly added soil.
Next Steps:
There is still a large amount of soil and we need your help next week, Saturday, November 14 from 10 am to noon. Especially if you had a bed this year, please come by to help us add more soil to all beds (the level will go down after watering a few times,
so the best approach is to fill them up to about one inch from the top). If you cannot make it on Saturday, let us know if you may stop by some other time and we'll give you detailed instructions
. We will also plant
an overwintering cove crop mix in all beds and cover with shredded leaves to leave everything ready for the winter. We will also commission two new raised beds and that should take care of most if not all of the soil that's left. Any leftover soil will be used within the church grounds.

Notes:
Please check out the Grow Local Film Series, that Roots & Wings is co-organizing with other groups in the area. Screenings start on November 16 and will continue through October 2016. The series brings a variety of documentaries on food and the future of farming.
We will be soon announcing the 2016 gardening classes with Suzi Novak--please stay tuned!
Reminder--Compost Bins: Sam has kindly volunteered to manage the compost bins and so we will continue accepting scraps for composting through the end of November. Please remember to follow the basic rules listed below.
Composting Rules:
Drop your kitchen scraps in the left-hand bin (if in doubt, check the ceramic signs above).

Cover the scraps with an equal volume of browns (leaves, straw or similar) from the right-hand side bin. This is needed to balance the

composition of the

compost and to minimize foul odors.

Only veggie scraps are acceptable (peels, flowers, grains, pasta, coffee grounds, tea bags, etc).
NO animal scraps (egg shells are OK).
NO fats or oils.

Chop any large scraps and crush any egg shells.

Make sure to remove any stickers, rubber bands, twist ties or any non-compostable items.
Gabriela.